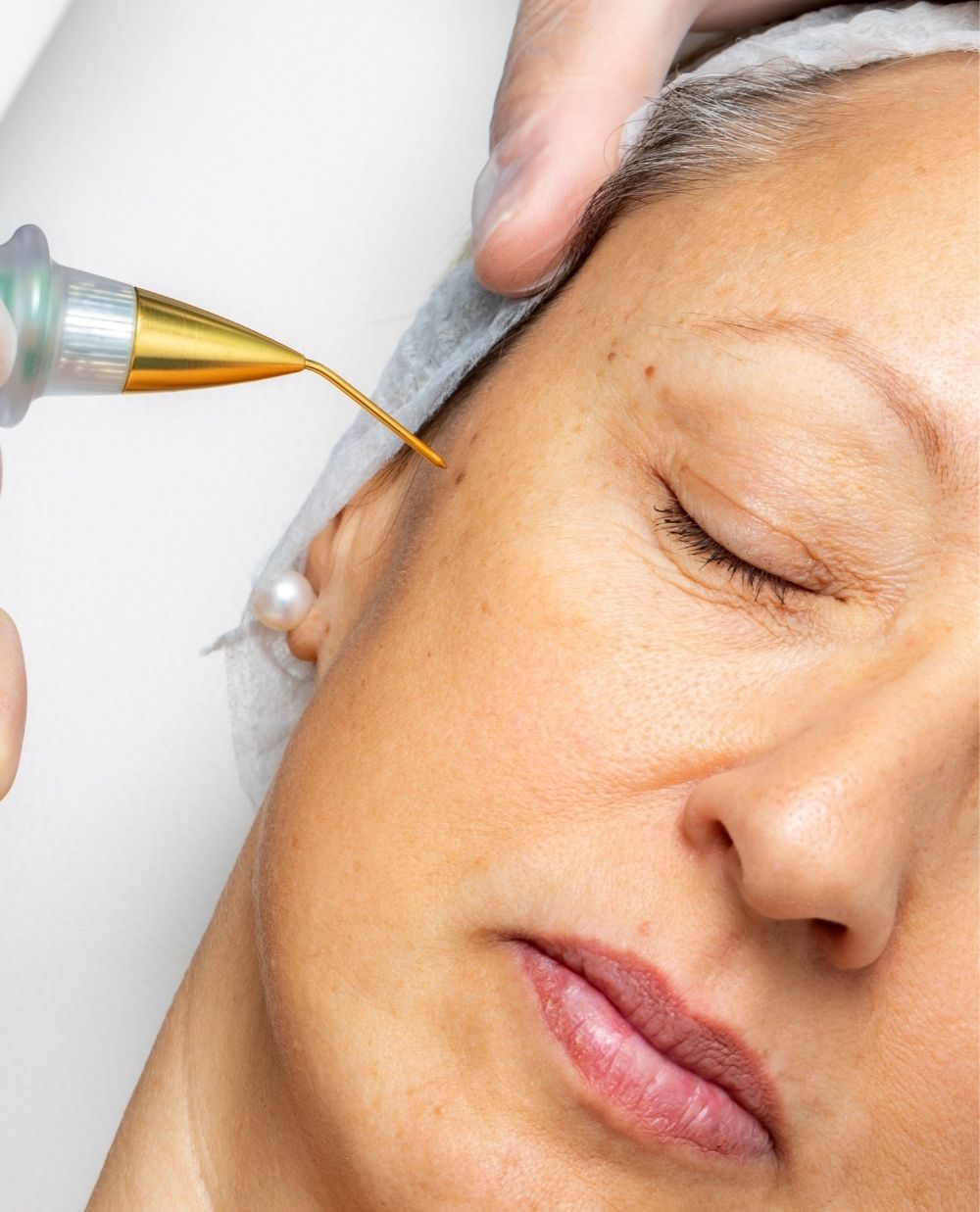 Dr. Lian is happy to be the first in Ottawa to give patients an alternative to blepharoplasty (surgical eyelid lift) without cutting the skin. For men and women of all ages, eye rejuvenation is one of the most popular and effective procedures for restoring the freshness of one's look.
Over the years, you may notice that it is more difficult to apply eye makeup, or that you continue to look tired even after neuromodulator injections. That is because the skin around the eye has become saggy, more lax and crepey.  
Introducing Plexr, a revolutionary technology that has been in use for over 10 years in Italy, gaining Health Canada Approval in August 2021. Canada is now the 53rd country to approve its use as a non-surgical way to treat the eyelid and other skin laxity.  The device ionizes the air present between its terminal and the skin. This generates a micro-plasma beam (electrical arc) that precisely stimulates the contraction, shortening and tightening of skin fibres through sublimation. Although its main application is to tighten the skin of the upper and lower eyelids; Plexr is an extremely versatile device that is used for different dermatological treatments, both aesthetic and curative.
The plasma beam generated by Plexr is the bridge between non-surgical and surgical procedures.
—-Benefits
Periorbital rejuvenation (upper + lower eyelid, +/- crow's feet) , known as  a "non-surgical blepharoplasty". No scalpel, stitches or laser.
Fraction of the cost of surgery
Perioral rejuvenation (smokers lines)
Treat wrinkles and loose skin of the face, neck, abdomen, elbows, knees
Removal of benign lesions:  keloids, cysts, skin tags, moles, xanthelasmas, keratosis, warts, cherry hemangiomas
Dyschromias: hyperpigmentation and hypopigmentation
Genital rejuvenation: labioplasty/ vulvoplasty
Active acne treatment
Treat scarring (hypertrophic scars; acne scars)
Treatment of resistant Warts
Immediate and long lasting results : ~2 years
Less downtime compared to surgical alternatives
—-Recommendations
It is advisable to use Plexr™ Plus in autumn-winter to minimize sun exposure during the period of healing of the skin.
—-Contraindications
Chalazion
Any inflammation or irritation of the eye area

Pricing: 15% off subsequent treatments of
the same treatment area.
Includes LCE Regard aftercare cream and 2 red light therapy sessions ($120 value)
Upper+lower eyelids+crows feet
Upper + lower lips + chin
Upper or lower lips or chin
Preauricular lines (in front of ears)
Skin tag/benign mole removal
Starting at $250 for first 3 lesions
Looking To Book An Appointment?
We're in the business of providing our clients a personalized experience.
If you are interested in any of Dr. Lian's many services, don't hesitate to contact us to see how we can help!
Treatment Overview
Number of sessions: 1-3
Downtime: 4-7 days
Duration of session: 30+ mins
Interval between sessions: 6 weeks
Pain: mild